Waiting to inhale
... Twin Falls man survived 26 hours in a sunken submarine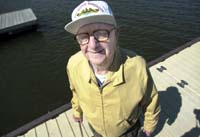 Warren Smith has spent most of his life around water.
He logged 22 years in the U.S. Navy, with 14 of those
years spent under the sea in submarines. His most
harrowing experience was 26 hours in a sunken
submarine before World War II.

It was dark. The air was foul. The only light came from the beams of a few flashlights.
On the other side of the bulkhead was a tomb. In those cold, dark spaces were 26 men who
had died an agonizing death, drowned by water gushing through an air induction valve nearly
three feet in diameter.
Warren Smith wasn't on the deadly side of the bulkhead. He was on the lucky side, where 33
survivors were breathing air pressurized to double the atmospheric pressure at sea level,
fighting for every breath.
The morning of May 23, 1939, started out routinely enough. The submarine U.S.S.
Squalus left port on its way to the 19th dive of its sea trials.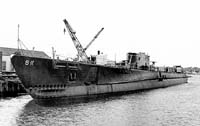 The U.S.S. Squalus in 1938, a year before
the fateful dive when she sank.
The drill this morning was to submerge rapidly in a simulated enemy attack. The captain ordered
the boat to dive just as he had 18 times before, but this time something went terribly wrong.
Two valves, one nearly three feet in diameter, had stuck open -- letting a torrent of water into
the boat.
"We dove and we went down to 50 feet in 55 seconds, and then we got word the engine room
was flooding. So the old man dropped down out of the conning tower ... and said blow all ballast.
And when they did the forward ballast raised the bow up about a 45 degree angle and stuck her
nose out of the ocean probably.
"But there was so much water that went into the engine rooms ... she went down. She stuck her
tail in the mud ... sat on the bottom and that's where she was."
She was in 240 feet of water off the coast of New Hampshire. In the dark. In an ocean whose
temperature was two degrees above freezing. And with the terrible knowledge that no one had
ever been rescued from a sunken submarine.
The one thing the submariners had going for them was a radical new technology pioneered
by a Navy maverick named Charles "Swede" Momsen. The new technology was the McCann
Rescue Chamber, a diving bell. The Squalus rescue would be the first time it was used.
The chamber made four trips to the bottom that day. Smith, who now lives in Twin Falls,
came up in the second trip, after 26 hours underwater. He got the early exit because he
was sick.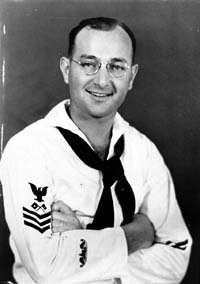 A portrait taken of Smith in Hawaii in 1942.
"I'd been up in that conning tower and I got sicker than a dog up there. The air was bad,
and Arthur Booth and I was hammering on the goldarn bulkhead and tearing off insulation
and everything."
Smith and his shipmate had spent hours in the conning tower, beating out a message in
Morse code in hopes the ships hovering above would hear them. The captain ordered
Smith to go to the forward torpedo room and wait for rescue.
"We moved up into the torpedo room and I crawled up into a bunk and went to sleep. I
said, well, I'll either get out of this son-of-a-gun or I won't.
Did Smith ever have the feeling he wouldn't survive?
"No, I didn't have that feeling 'cause I'd had things happen to me before -- not that bad, of
course. I figured I was either going to get it or not."
But that attitude didn't temper his reaction when the diving bell bobbed to the surface.
"... when I came out of that bell I couldn't believe the air was so easy to breathe."
Warren Smith is 87 years old and still breathing easy.

Story by
Times-News Chief Photographer Bruce Shields.


Warren W Smith
Passed away on
7/23/2001


Twin Falls ID: Shipmate Warren W. Smith departed on eternal patrol July 23, 2001. Warren was a
member of SUBVETS WW2 and USSVI, Hawkbill Base. He qualified on the S-1 in 1934 as a Seaman 2/c.
He served on the USS CACHALOT, USS BASS, and USS S-37. In 1939, Warren was a SM2/c aboard
the USS SQUALUS when she sank. He was one of 33 survivors. He made war patrols on the USS GRAYBACK.
Warren retired as a LTjg after 22 years service. He is survived by his son Arthur A. Smith of Twin Falls, Idaho.
He will be missed by his family and shipmates at Hawkbill Base. Sailor rest your oar.